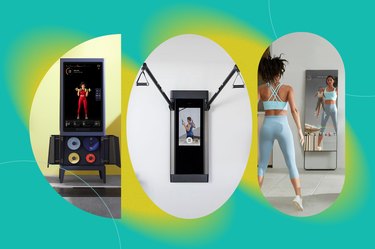 What do whipped coffee, Abercrombie & Fitch and home gyms have in common? In the past few years, they've experienced quite the glow up.
And while standard free weights certainly aren't obsolete, smart gyms have taken at-home training to a new, innovative level. Browse the best smart home gyms on the market below, and learn how to find the best machine for you.
We chatted with a strength coach and personal trainer, who narrowed down the most important things to look for in an at-home smart gym. Our top picks are based on their criteria, including:
Safety
Workout variety
Accessories
Tonal was among the first at-home smart gym systems on the market, and it's still one of the best you can find. This machine has a totally customizable cable resistance system, much like a cable machine at your gym. And you can switch out any of the attachments (it comes with handles, a bar and a rope) depending on the exercise you're doing.
Tonal's screen allows you to stream thousands of workouts, including modalities like strength training, high-intensity interval training and yoga.
And you can track your sessions to monitor your progress over time, making it a great option for those looking to meet fitness goals, according to Carolina Araujo, CPT, a California-based strength coach.
​Buy it: ​Tonal.com; ​Price:​ $2,995 or $63/month; $49/month video subscription
2. Best on a Budget: Mirror Basic
There's a reason this machine is called the "nearly invisible home gym" — at first glance, it looks like a standard (and sleek) mirror. But it's so much more.
"I love that the screen still has reflection even while you're using it," Araujo says. "You can watch your form during the workout without having to constantly glance away from the machine."
Mirror also has a smartphone app that syncs with your fitness tracker, so you can monitor your heart rate, giving you a more accurate measure of your effort and intensity.
Another bonus: You can connect your Apple Music account to play your own workout playlists while you train.
​Now through May 9, get $200 off the Mirror and free shipping and installation when you use the code​ ​MOTHERSDAY22.​
​Buy it: ​Mirror.co; ​Price:​ $1,345 or $32/month; $39/month video subscription
3. Best for Advanced Workouts: Tempo Studio
Whereas most smart gyms incorporate a single set of dumbbells or a built-in pulley system, Tempo takes your workout a step further. This system comes with two dumbbells, clips and weight plates, so you can customize your resistance.
You can even combine the two dumbbells to create a barbell, Araujo says. This really brings the gym into your house, allowing you to build and develop more advanced training skills at home.
Like many smart home gyms, this system scans your body and monitors your form, giving safety tips as you go. So, those who don't have much barbell experience can make safe progress.
​Buy it:​ Tempo.fit; ​Price:​ $2,495 or $52/month; $39/month video subscription
4. Best for Functional Fitness: OxeFit XS1
Looking to improve performance in your favorite sport? OxeFit's XS1 machine can help with that. You can choose from additional packages that allow you to use the machine's cable system to practice the motions and strengthen the muscles involved in sports like skiing, kayaking, swimming, rowing and more.
"This is a great option for anyone looking to develop a sport-specific skill or just practice functional fitness in general," Araujo says.
​Buy it:​ Oxefit.com; ​Price:​ $3,799 or $79/month; $39.99/month video subscription
5. Best for Saving Space: NordicTrack Vault
Also a mirror-style system, the Vault allows you to work alongside a trainer and watch your form while you move. This system works with iFIT (a digital workout platform) where you can try numerous workout styles, including yoga, Pilates and interval training.
The machine is also a great space saver, Araujo says. The front of the Vault machine has a door that opens up, providing extra space to store the dumbbells, resistance bands and foam roller that come with the gym. And for those who already have some equipment around the house, you can buy the Vault solo without any additional equipment.
​Buy it:​ NordicTrack.com; ​Price:​ $1,999 or $42/month; $39/month video subscription
3 Factors to Consider Before Buying
1. Your Favorite Activities
While most smart home gyms have a variety of streaming fitness classes to choose from, think about your favorite types of activities, Araujo recommends. Love boxing classes? Make sure the machine you're considering has this modality in its library.
Consider your fitness goals, too, she says. Those who want to build strength, for instance, should look for a smart gym with a resistance system of some sort, like cables, dumbbells or a barbell.
As you may have noticed, these home gyms aren't exactly the cheapest investment. So, the amount of money you're willing to spend affects the options at your disposal.
Also, keep in mind that most smart gyms require a monthly membership if you want to livestream classes or access video libraries. Usually, these are about $30 to $40 per month, but some companies require a year-long commitment, so make sure this additional cost can fit in your budget.
Equipment companies often offer financing options, meaning you can pay off your machine at a rate that feels comfortable. Many also have flexible return policies if you decide the investment isn't right for you after all.
Unlike standard at-home gyms, most of these machines don't take up much space at all. Nevertheless, you still want to make sure there's enough space for your device, so double check the measurements in the product info before purchasing.
"I'd check that you have a few feet of space where you plan to put your home gym, too," Araujo says. "After all, workouts involve movement, so it's good to have a little space to move back and forth."
Shop More Gear for Your Home Gym
https://www.livestrong.com/article/13772231-best-smart-home-gym/