Rock Steady Boxing is enabling people with Parkinson's disease, also known as the "Tin Man Disease" to fight back by teaching non-contact boxing style fitness programs to help improve their quality of life.  
I recently attended a class of Punch Out Parkinson's at a UHS rehab facility in Owego, NY, and watched as their coach, Amber Pinky, helped instruct them through warm up and then actually donned some gloves and did some boxes with several different style bags.  
Parkinson's disease affects the involuntary actions of its victims like walking. Some of the early symptoms include shuffling of the feet, stiffening of the joints, no facial expression, poor balance, some have the tremors, slowing down, and effects the voice and more. Pinky states, "Everything gets smaller with victims hunching down, leaning forward, shuffling along; it's literally closing off pathways to the brain."  
In the Punch Out Parkinson's Classes, practicing forced exercises actually creates new paths in the brain. They work on posture, balance, dexterity, even work on raising the voice.  
While waiting for some of the members of the class to arrive, Pinky encouraged some of those on hand to walk around dribbling a ball, first on one side then on the other side, passing from right to left and back.  
Once everyone was there, a warm up was done by each, starting out sitting in a chair.  "Deep breaths in and out, arms over head and down." After that they did shoulder circles, then arms out and hands out and back; then on to stretching legs out and kicking them out while still sitting in the chairs. 
Next while standing and hanging on to the back of the chairs; Pinky had them do mule kicks, working and demonstrating what she wanted with each move.  
After encouraging them to put feet wide apart to feel secure and balanced as well as having the chair near, she had them go through five punching stations.  
Family members who had accompanied the class participants also joined in and did the warm up with their loved ones. Everyone seemed to be enjoying themselves and very relaxed.  
After the warm up Pinky had them stand in front of their chairs and do some bobbing and weaving like a boxer would do to miss being punched. Again she made sure they had their legs apart and then stretched their arms over their heads, taking a deep breath and saying the vowels, holding the sound as long as they could.  
They worked on coordination by putting a foot forward, out, back and then together, then the other foot.  
Rock Steady Boxing enables people with Parkinson's disease to fight their disease by providing a non-contact style boxing style fitness program. One of the class members told me, "Rock Steady is helping a lot; the more I go the better I feel."
Another family member told me how much the program has improved her mother who came into the first class by shuffling along with a walker with her head down and shoulders hunched. Now after a month of the classes the woman walked in without the use of any devices and held her head up and back straight.  
After the warm up each member of the class put on boxing gloves and rotated around to different boxing stations and did punching and kicking of the many style of punching bags. Family members and other health professionals stood nearby in case they should feel off balance.  
Classes are $30 a month if you participate one a month, or $60 a month to participate two days a week. Those interested are allowed to come in and observe without charging. Once a person gets started, if they find difficulty funding the class the Rock Steady Boxing will see what they can do to help you out.  
Pinkey teaches a class in Conklin and Vestal, and since June has been holding the classes in Owego, partnering with UHS about two years ago. Currently she is hoping to attract more participants to the Owego class.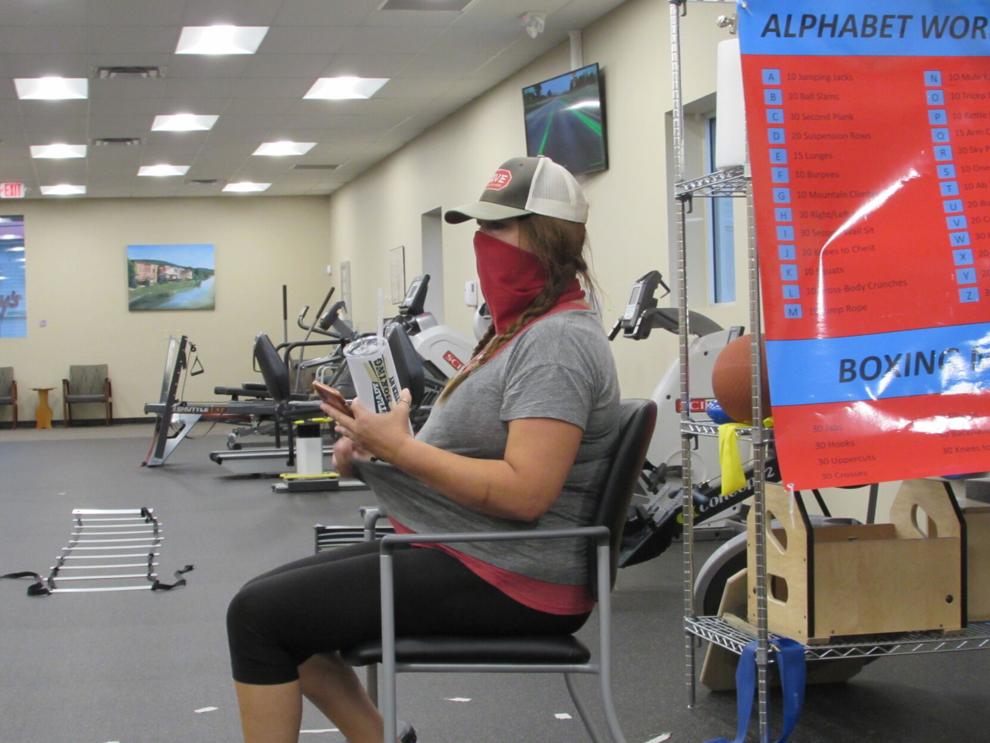 As of this date there are about one million in the US dealing with Parkinson's, and Rock Steady Boxing is holding classes in many states in a quest to help those suffering and their families.  
Not only is she hoping for more participants, but also more volunteers to help with the spotting. Pinkey is nursing board licensed, a massage therapist and has been a program director for colleges on holistic medicine for 15 years.  
For more information you can check out the website https://www.rocksteadysoutherntierny.com or see them on Facebook; or contact John Cappello at 607-760-4487 or Evelyn Deeley at 607-237-0148.  
In Rock Steady Boxing, Parkinson's disease is the opponent, and the program intends to extend the perceived capabilities of the participants. 
https://www.ithaca.com/news/candor/punch-out-parkinson-s/article_cd4fd8b6-402e-11ed-85b2-e385a8eae5a9.html