A photo of a flyer threatening gym employees with retaliation for discussing their wages has gone viral after an alleged staff member shared it on social media.
"Attention all subordinates," began the note allegedly taped to a break room wall by a gym manager in Frankfort, Kentucky, on Thursday.
"Effective immediately, conversing about wages (both on duty and off duty) is strictly forbidden. This is considered proprietary information and as such, it is protected legally. If you are overheard speaking (OR LISTENING TO!!) a conversation in which wages are discussed, you will receive disciplinary action up to and including termination."
The image was shared on Reddit by a customer service representative at the gym, who identified himself to Newsweek only by his first name, Erick. His post has reached over 30,000 votes on the website's "Antiwork" forum.
Erick explained that he has been working at the gym for about six months, making $10.50 per hour. Recently, the establishment was understaffed and the general manager started hiring new employees at a rate of 50 cents more per hour, according to Erick. His franchise manager, identified only as Jer, found out that employees were sharing their wages—and responded by hanging up the flyer.
"Is this sign legal?" Erick captioned his post.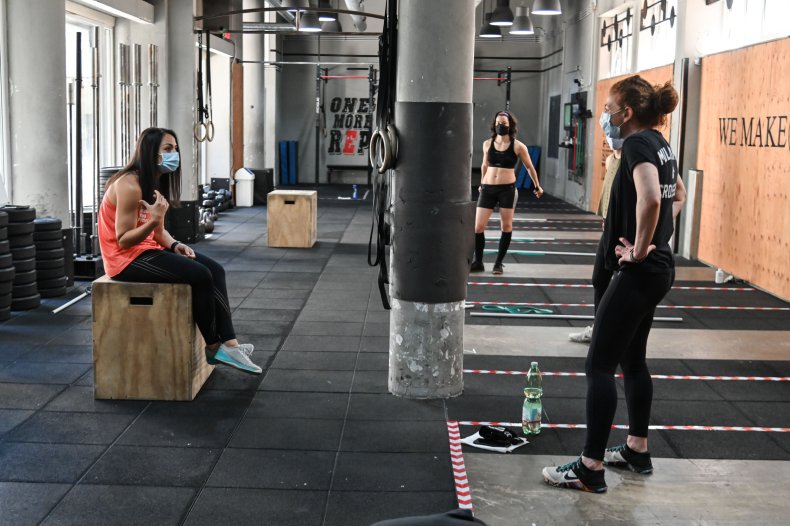 The answer is no, according to the National Labor Relations Act, which grants workers the right to communicate about their pay. Any "work rule, policy, or hiring agreement that prohibits employees from discussing their wages" is unlawful, according to the National Labor Relations Board (NLRB). Discussion of wages is often the first step to labor organizing and other actions to protect workers.
Erick told Newsweek that he has not yet filed a complaint with the NLRB, but plans to do so. He added that his team was not particularly surprised by the sign, since their manager is known as a "tightwad," but the room still felt deflated when they read it.
"A few people considered quitting just from what it did to morale," he said.
Other Reddit users were furious on Erick's behalf and urged him to pursue legal action.
"With that sign up ANY firing will be suspicious and could be called into question by the labor board," one reader said.
"This picture is all the evidence you would need to win a labor case," another added.
Others were simply baffled at the blatantly intimidating wording of the flyer.
"The fact you're called subordinates already says a lot," one user observed.
"Dwight vibes all over the place," another reader said, referencing the fictional character Dwight Schrute of the television series The Office, known for his love of authority and bullying style of management.
https://www.newsweek.com/gym-employee-alleges-manager-forbade-discussing-pay-viral-post-1696538