Atkins Diet. Intermediate Fasting. Keto. Low-Carb.  
Those words provoke guilt or frustration, particularly for anyone who has attempted those popular diets. Maybe it was a New Year's Resolution, but the goal disappeared once the semester began.
And with National Nutrition Month coming to a close, it's the perfect time for everyone–from foodies to body-lifters–to evaluate their nutrition.  
Many, including the recently-hired Campus and Sports Dietician Jordan Yseth, share concern about healthy food access on campus. Scrappy's Market (which the Echo covered here) provides some affordable produce, but only twice a month. 
"There's not a lot of fresh produce on campus, but it's something that we're aware of and I've taken personal note of," Yseth said.
She mentioned students routinely travel to Signal Mountain for groceries. According to Nursing Major and freshman Logan Parsons, travel is not always accessible, especially during homework-heavy weeks.
"Sometimes, if I have class, I won't be able to go out in time," Parsons said. "I have to make a day of it."
Most people struggle with balancing nutritional content and affordable price—since they rarely coincide. Now, imagine living with a gluten, milk, egg, peanut, or shellfish allergy. Yseth, thinks healthy living should come stress-free.
"I've always been an anti-diet dietitian," Yseth said. "I'm not about food guilt, judging people's food, or shaming people's food."
However, few people understand her role within UTC or Aramark–the food service provider for UTC–let alone reach out to her for one-on-one diet counseling. 
"A dietitian has a strong understanding and expertise in human nutrition, from a scientific, community, and individual perspective," Yseth defined. "We're here to support people in meeting their nutritional needs and goals."
It's important to note the title "dietitian" is protected, requiring licensure; meanwhile, anyone could claim to be a nutritionist with impunity.
Originally from Minnesota, Yseth moved to Chattanooga with her significant other. She enjoys the outdoors and adores the vibrancy of campus life. When she explained how she enjoyed debunking fad diet myths, her face lit up. 
For Yseth, dieting does not have to be difficult or standardized. Especially since she recognized that not everyone has access to cooking or the capital to purchase healthy meals.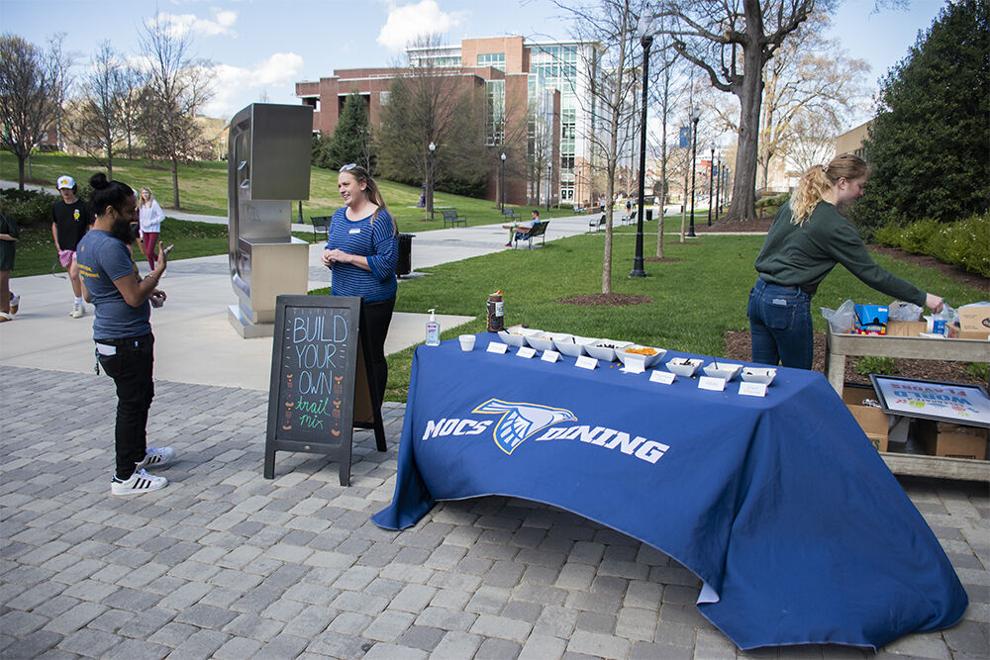 "My goal is—always when I work with someone—is to support them in their nutrition goals," Yseth said. "I meet that person where they are at."
Her role–technically an Aramark employee and UTC affiliate–consists of splitting her time between campus dining services and student athletics. 
As part of her duties for student athletes, she meets with sports coaches and department heads, up to fourteen meetings per month. Additionally, she serves the football team healthy, post-workout snacks, like peanut-butter and jelly sandwiches or fruit smoothies.
She argues all of campus–not just the athletes–can eat healthily—simply by considering the entire menu. In places like Crossroads, while students like to stick to one station, Yseth encouraged students to pick the best foods from each station. For example, grabbing some chicken from the Homezone section to sprinkle onto a salad, with some fresh fruit as sides.
However, she distinguishes between healthy eating and healthy living. Healthy living does not mean starving oneself or missing fun opportunities.
"Sometimes it's more healthy to go out, be with your friends, and eat a burger and fries," Yseth said. "Nutritional value is not everything. Sometimes it's about community or taste."
Eating healthily is about making individual choices, from person to person. Social media might promote fad diets, but punishing oneself to follow one should not be the norm. It's okay to treat oneself or to have a craving, so long as one keeps an open mind about the foods they eat.
Wanting to learn more about nutrition is for anyone, and Yseth is happy to help on an individual level.
"I'm not the food police," Yseth summarized. "All foods fit, and what's right and healthy for one person looks completely different from the person next to them."
For further information or to reach out to Yseth, she may be reached at her email, [email protected], or her office phone, 423-304-6163.

https://www.theutcecho.com/features/campus-dietitian-gives-tips-for-eating-healthy-following-nutrition-month/article_2defe4ce-a177-11ec-a38a-8f89b10521ed.html